雨風に曝され、長い年月を生き続けた作品のほころびを修復する。
それも私達職人の仕事です。
作品に対峙したときに感じる空気、
先人はどのような想いでこの作品を作り上げたのか
どのような時代だったのか
そしてその想いを未来につなげるためには。
技術だけに頼らず、それらを読み取る感性を兼ねそろえた
職人になれるよう、日々邁進しております。
Repairing cracks and seams of works caused by long years of rain and wind is but another aspect of a craftsman's job. When facing these works we feel the air around it, we wonder what it's creator had in mind when creating it, we think about what kind of era it had been and how we can bring it on to the future. We strive to become craftsmen who not only rely on skills but also are sensitive to hidden messages.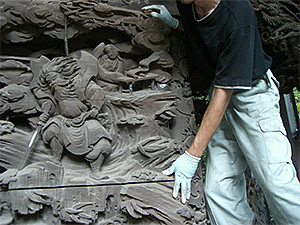 東京都足立区舎人にある舎人氷川神社の壁面彫刻を修復致しました。2畳ほどの彫刻板が落下し、バラバラに崩れてしまっておりましたが、足りない箇所を造り、一つにまとめ仕上げました。
東京都足立区舎人 舎人氷川神社 材質:ケヤキ 制作年:2000年
We restored wall carvings of the Toneri Hiwaka Shrine in Adachi, Tokyo. A 6ft.x6ft. section of carved wall plank had fallen and shattered. We recreated areas that could not be saved and pieced them back together.
Toneri Hiwaka Shrine, Adachi, Tokyo Material used : Japanese jelkova Date of construction : 2000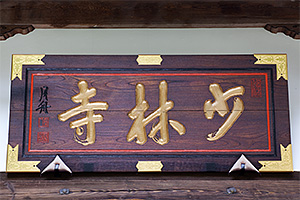 埼玉県寄居町にある武州寄居十二支守り本尊の一つである少林寺の山号額。山号額とはお寺様の山号を書き入れた額のことです。永正8年(1511年)に創建されたこのお寺は長く風雨に曝され山号額が傷んできたので生まれ変わらせました。刻書の字体はオリジナルをそのまま再現し、四隅の錺金物は、たたいて直した後金メッキを施し、傷みの激しいものは新調して、荘厳な雰囲気を出しております。通常山号額の文字を彫刻するときはカマボコ彫りになります。板には下地を乗せず、直接漆を塗りこむ摺漆で仕上げました。
埼玉県寄居町 少林寺
This picture shows the Sango frame of the Shorin Temple, a worshipper of the Bushuu Yorii 12 Chinese Zodiacs, that is located in Yorii town, Saitama. Sango frames are those used to frame honorific titles given temples. Founded in 1511, the 8th year of the Eisho Era. The Shaolin Temple's Sango frame had, after years of relentless weather, become worn-out and so we restored it. The original character designs were kept, the four corners metal-fitted, the board gold plated after shaping and areas that could not be saved were recreated leaving the Sango Frame as impressive as ever. Conventional methods of Sango Frame engraving would have a Kamaboko-shaped finish. And finally without foundation on the board, lacquer is applied using a special method called suri-urushi.
Shorin Temple Yorii, Osato District, Saitama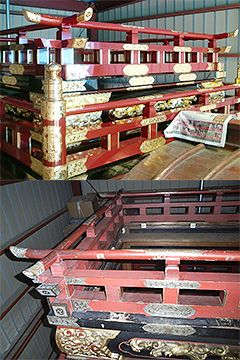 埼玉県熊谷市の山車を修復いたしました。すべて解体し、漆塗り替えをメインとして、錺金物・屋根板金・彫刻直し・塗装など1式請負いました。腕の良い職方との、信頼ある横の連携があってこそ実現できます。
Here, we restored a festival float in Kumagaya City, Saitama. We had undertaken all responsibilities regarding the restoration from dismantling and lacquer painting which was the main responsibility, to restoring metal ornaments, metal roof tiles and engravings. This project was made possible only because of skillful craftsmen and reliable support.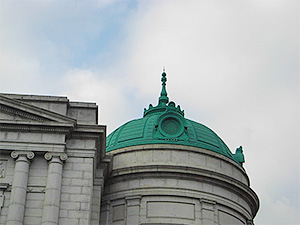 上野・東京国立博物館にある表慶館の屋根改修工事に伴い、板金工事に使用する木型を制作しました。現地で原寸型取りし、形状を忠実に再現して板金職人様にお渡しいたしました。
製作年:2006年 施工:大林ファシリティーズ㈱、㈱小野工業所
Together with the roof repair work on the Hyoukeikan of the Ueno/Tokyo National Museum, we also recreated a wood model of the Hyoukeikan for the use of metal-plating craftsmen. The wooden model was created true to its form, after exact measures of it were taken at the exact site, and successfully passed to the metal-plating craftsmen.
Date of construction : 2006 Construction : Obayashi Facilities, Onokogyosho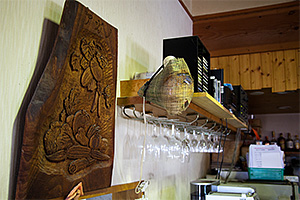 関越自動車道 花園インター近くにある伊太利亜食房 アガノ。その店内に飾られている看板です。食材をモチーフにし、木材はクスを使用。拭き漆で仕上げイタリアンと日本文化を融合させました。
伊太利亜食房 アガノさま 材質:クス
On the Kan-Etsu Expressway at Hanazono interchange, there is an Itallian restaurant called Agano. This picture shows the signboard displayed in the restaurant. The board, made of camphor tree was designed after food ingredients, and finished using the lacquer technique called Fuki-Urushi which made it possible to portray the fusion of Italian and Japanese cultures.
Italian Restaurant Agano Material used : camphor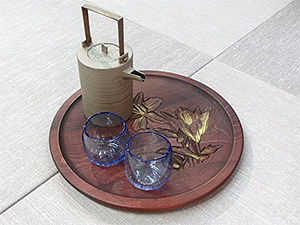 一つ一つ手掘りをし、木地には漆を、彫刻には金粉をあしらっています。画像のデザインは百合。2011年に、新宿・リビングデザインセンターOZONEにて展示いただいた一部です。
Hand carved and lacquered one-by-one, then finished with gold dusting in the engravings. This picture's design is the Lily flower. In 2011, this piece was one of many, displayed at the Living Design Center Ozone Exhibition in Shinjuku.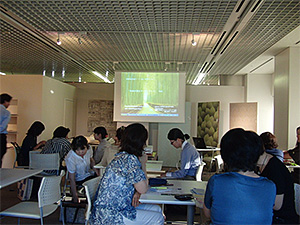 新宿・リビングデザインセンター内、インテリアサロンにて展示会に合わせお話させていただきました。内容は、身近にある伝統デザインと彫刻たち・・・
展示についてはICの方にアレンジしていただき、とても勉強になりました。
At the Interior Salon facing the exhibition in the Living Design Center in Shinjuku, we were allowed to hold a seminar. Our topic was "Traditional designs we hold dear and those who carve them." With respects to the exhibition, we had the IC make the arrangements and it was very educational.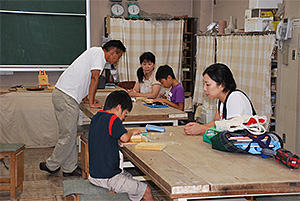 夏休みのイベントとして寄居町公民館より依頼を受け、小学生を対象に開催いたしました。出来上がった作品に満足する子供たちの笑顔に、教える側が感謝です。
After receiving a request to plan an event for the Summer Holiday by the Yorii Community Center, we held an exhibition targeting primary school students. Those on the teaching end were touched by the children who smiled at their completed works.